On my third day in Europe I was up early enough and awake enough to go skiing. Each of the ski fields around Innsbruck runs a free tourist shuttle bus from various areas around the city directly to the ski fields. Find the area where the ski bus departed from was a little tricky even though it was essentially across the road from the hotel as it wasn't very well sign posted, however, the buses had very clear labels on them and made the hour long ride out to the ski field very comfortable.
The snow that had been falling in the mountains the previous day also fell in the city overnight and as we headed out of Innsbruck and up the narrow mountain road to Axamer Lizum the snow on the ground and the trees kept getting more and more.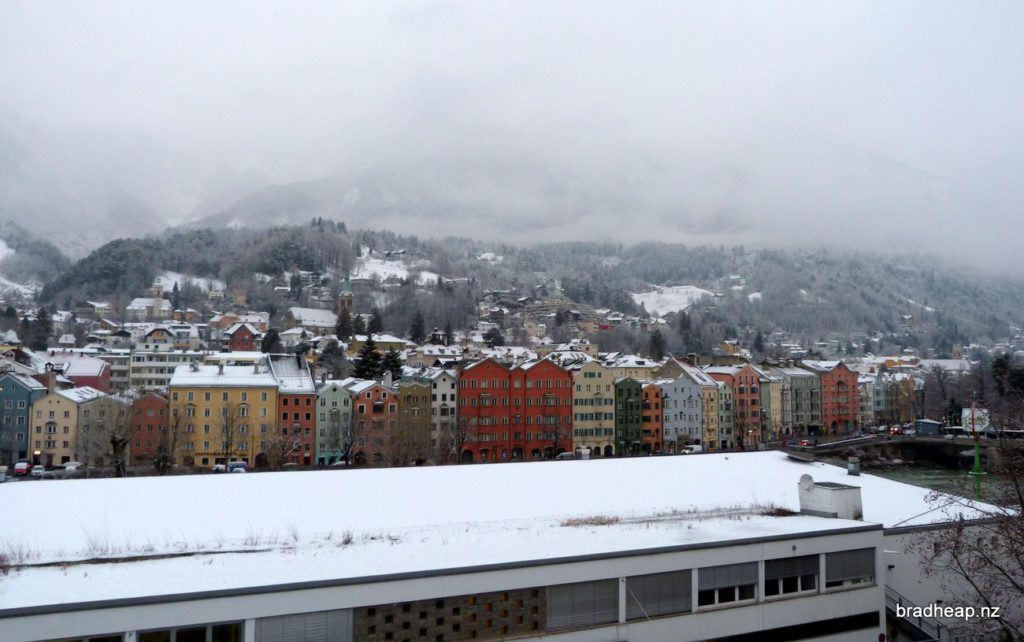 Arriving at Axamer Lizum a little after 9am I quickly found the on field ski hire and grabbed a lift pass and headed up the mountain. As the main chairlift from the base area climbed higher we ended up in quite a heavy fog which made the first few runs down the mountain very slow with visibility so low that I was skiing to route markers and having to completely stop to find the next one in the mist.
Fortunately, after an hour or so the poor visibility and light snow lifted and I was able to explore a lot more of the mountain. Although the field was "small" compared to some other fields in the alps it still provided plenty of open space and different runs that could be taken. The lower parts of the mountains through the forest was fun as it is something you don't experience on New Zealand fields and the higher parts of the mountain gave beautiful glimpses through the clouds across the alps.
Overall, Axamer Lizum was the perfect place for a day of skiing near Innsbruck. The powder was amazing and I was very fortunate to ski on 15cm+ of fresh snow. I would love to go back to both Axamer Lizum and Innsbruck and spend a week or so exploring the other ski areas in the region.